Dear Patriot,
There's perhaps no lecture of greater importance for our movement here and now than this one.
This lecture is our model in a nut shell. When you complete the Real Nature of Politics and Politicians, you have the entire vision for what we're trying to accomplish
.
And it takes listening to the lecture much more than once to truly start getting the picture at a deep level.
That's why we are making available, our Real Nature of Politics and Politicians Pre-recorded Webinar.
Scroll down and fill out the form below to register now
!
This is where we're going to give you the bare knuckles truth about how the system works and what you truly must do to be effective.
Do not purchase this webinar if you believe the system is broken, or rigged, or if you believe the media "controls" everything
.
The system isn't rigged. In fact, it works pretty darn well, even today
.
Actually, the reason we lose, when we lose, is not because of a sly gotcha trick from the Left or someone tampering with the voting machines.
When we lose, it's because fundamentally, so, so many of "our" liberty activists have ZERO clue about how politics actually works. And they don't take a single step in the direction of doing anything of any substance or value.
They trade real political power for access to politicians. Instead of forcing a politician to vote the right way they'll sit next to him at the place of honor at his fundraiser.
We'll talk, in-depth, about the cancer that is "access", on this webinar so
complete the form below to register for our Real Nature of Politics and Politicians Pre-recorded Webinar
.
At a deep level, there are just a few who truly get it and now have the hope that only comes from finally understanding, little old you actually can make a difference.
This is why Foundation for Applied Conservative Leadership exists
. To fill a void within the conservative and pro-liberty ranks in America and ignite a dedicated, small minority of people to take their country back.
You'll learn in the Real Nature of Politics and Politicians Pre-recorded Webinar, that it does not take a majority to prevail, but rather as Samuel Adams would say
...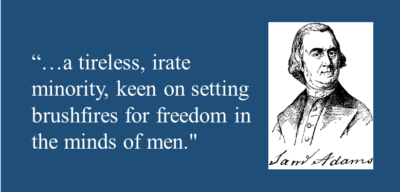 I didn't say using our approach and running our models would be easy, and if you've starting running these models you know this.
But in time, it is absolutely the only road to success in reclaiming and expanding the liberty you enjoy in this great nation.
Fill out the form below, to register today for our Real Nature of Politics and Politicians Pre-recorded Webinar
.
It doesn't matter if you've heard this Real Nature of Politics and Politicians lecture five times before
.
*Have you implemented everything we cover in that lecture?
*Are you truly controlling the environment in your area?
*Or is "access" slowly soaking into the core of your organization?
Perhaps liberty leaders who once were to be admired now serve as nothing more than lap dogs for local incumbent politicians.
Perhaps your cadre of volunteers is eroding away because your group is not a group, but simply a monthly debate club.
If you want the truth, if you want to listen up for something that will be worth your time, register for the Real Nature of Politics and Politicians Pre-recorded Webinar on the form below
.
I've taught and listened to the Real Nature lecture over 60 times already, and still, every time it is like a breath of fresh air.
If you love your country and want to be efficient with every last minute you can give to political activism, you have to be purchase this pre-recorded webinar
.
We explain the difference between inflicting real political pain on politicians and just simply existing as their lap dog.
We discuss a central point of everything we teach, that politics is a numbers game, as well as, how to break down the vote in politics to talk with the most important slivers of voters, the ones that truly make all the difference, whether it be legislative season or election season.
During the Real Nature of Politics and Politicians Webinar, you will learn how politicians react to pressure and what you should do when they do.
That and much more is on tap for this Real Nature of Politics and Politicians Pre-recorded Webinar so please don't miss it.
Sroll down and complete the form below to register today
.
For Liberty,
Kirk Shelley
Senior Advisor and Instructor
P.S. When I first listened to Mike Rothfeld present this lecture a number of years ago it TOTALLY changed has I viewed politics and how I chose to spend my time as an activist moving forward.
I come from one of the worst states for freedom in the country, the Socialist Republic of Maryland.
Using FACL tactics that all flow down from this Real Nature of Politics and Politicians Lecture, we've been able to accomplish things in Maryland that many thought would never be possible in liberal districts
.
It's all because the majority of conservative and pro-liberty activists out there JUST DON'T KNOW what they are doing.
If you know someone whose heart is in the right place, but who is going down the wrong path on tactics -- send them the link to purchase this pre-recoded webinar.
If you yourself could use a refresher or just find listening to this lecture an enrichment -- fill out the form below today!