Can You Believe the Polls?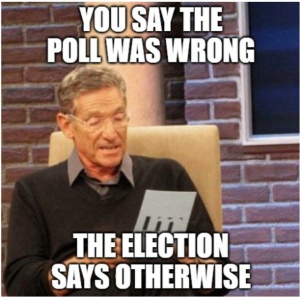 Can you believe polls? Well, the answer is: It depends.
You see, polls can be manipulated, misunderstood or just done badly. They can also be done well and show you a path to victory, but that doesn't guarantee a win (just ask Hillary Clinton).
What can go wrong?

> Asking the wrong people.
> Asking the wrong questions.
> Ignoring the makeup of the district.
> Not knowing how to get a reasonably representative sample.
But you can get around these problems, and that is what you will learn on this pre-recorded webinar with Mike Rothfeld.
Mike is a veteran campaigner with over 30 years of experience in politics and marketing. He knows how polling works and doesn't work.
Some polls are flat-out manipulative, some are just badly done, and some are accurate -- but you just don't like the results. So how can you tell the difference? By understanding polling.
In this hour, you will learn more about polling than the average CNN or FOX News anchor seems to know.
Polling can be a very important tool in putting together your campaign strategy or winning a fight in the state legislature. But only if it is a good poll.
You will learn important polling fundamentals, like why you can't compare two polls from different pollsters without knowing how they see the electorate. Or why you can't make assumptions about different groups and their attitudes based on small samples.
This is vital information for anyone who is serious about campaign work, and important information for anyone who wants to be a more informed citizen.
Fill out the form below to get your access to this pre-recorded webinar now
.