Friends,
Big Government Leftists are working around the clock to weaponize the campaign finance laws at every level of government.
I'm seeing new stories crop up from across the country where well-meaning liberty activists end up in legal battles because they tripped into an onerous lobbying statute or campaign finance regulation.
Politicians in state legislatures everywhere are inventing new ways to criminalize political activity and it's for one reason:
To shut us up
.
Our enemies want to create a world where we have to ask for government permission just to exercise our First Amendment Rights.
We're here to help you navigate this increasingly dangerous legal environment.
That's why Foundation for Applied Conservative Leadership is making available our Legal Scared Straight Pre-recorded Webinar.
Complete the form below to purchase access to this recording
!
That's right! We want to open your eyes wide to the dangers that are out there -- not to dissuade you from taking action, but to empower you with the knowledge you need to avoid unnecessary legal fights.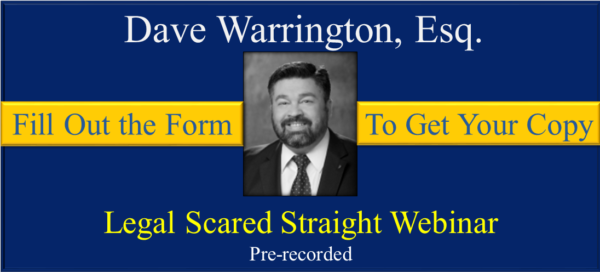 Mr. Warrington is an attorney at law who has vast experience in the realm of campaign finance law, lobbying and ethics requirements in states across the country.
He's not just an expert on the legal components of political activism, he's a hardcore liberty activist, devoted to our cause. He understands what's at stake and just how important our work is for the cause of liberty here in America
.
You see, we have a wonderful problem right now in in this country.
More and more of our activists are operating at higher and higher levels whether it's running for federal office, launching 501(c)4 groups, or operating PACs and raising money in election season.
But when you present a serious threat to the entrenched Establishment you get a target placed on your back
.
And the go-to move that your political enemies will use to take you down will be that you didn't comply with some little campaign finance technicality or that you didn't file your organization properly with the state.
Don't speculate on what is knowable. Empower yourself by knowing the right questions to ask before you take on a fight
!
Complete the form below to purchase access to this recording
!
Trust me, I know how painful these missteps can be and I know what it's like to be under the microscope of the political class and their henchmen in the bureaucracy.
We cover topics like
:
I wish I had this opportunity when I was first starting out as an activist, and this webinar will help you avoid the pitfalls that so many well-meaning patriots fall into when they start to cause serious pain for the political Establishment.

Complete the form below to purchase access to this recording!

For Liberty,

Dave Pridgeon
Director of Follow Up

P.S. I don't want any good people to get caught in a legal beef or worse.

That's why we're making available one of the most important webinars of the year! We want to teach you about the legal traps and key questions you need to be asking yourself when you're taking on political battles -- to protect yourself under the law.


---